Feeding the Macleays Spectre Stick Insect (MSSI) or Giant Prickly
Female MSSI's can produce a great number of eggs. One to four eggs a night are lain, or actually shot. The eggs (one at a time) first become visible in the anus, where they harden for a while. After this, they are shot out with force.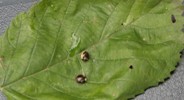 The pang against the glass of the terrarium is clearly audible. The eggs are about 4 mm in size and really firm. The colour ranges from light-brown to dark-brown and have a yellow lid. It's through this lid that the young animals emerges. The hatching of the eggs can take a very long time, up to two years after they are lain. It depends on the temperature and the humidity. At an average temperature of 30 °C, this will last about six months. The eggs must remain damp during this period. But it is important that they do not become mouldy either.
Straight after hatching, the small sticks are called nymphs. The move very fast, in contrast with the adults. They do resemble their parents with their six thin legs and their feelers, only they're very thin.
When they grow, the insects shed their skin. Changes in their appearance occur each time after they shed their skin. This is called incomplete metamorphoses and can also be observed in crickets, grasshoppers, scorpions, and arachnids. Other insects pupate to reach adulthood.
After the third shedding, the prickles and flaps appear. Females usually shed their skin six times, males five times.
Before a shedding, the insect remains quietly on the same spot for some time, making curving movements. The skin will then open up behind the head. Then the neck is pushed out, after which the head and feelers will follow. After this, the rest of its body will come out. The legs have to be pulled from the skin. The final tip of its abdomen will remain in the old skin. The insect will first let itself dry now. The old skin is usually eaten.
It is important that the atmospheric humidity in the terrarium remains high enough. Otherwise, the new skin may become too dry and tight, and this will be problematic for the shedding. The terrarium of the stick insect must therefore be sprayed regularly.

Next time more about the care of the giant prickly.
News